I love making homemade pizza with homemade dough, plus it gives me a reason to pull out my bread machine which has been collecting dust the past two years. This is a good recipe for when you want to do something different than the traditional red sauce pizza. This recipe I adapted from Rachel Ray's recipe
sweet onion pork pizza.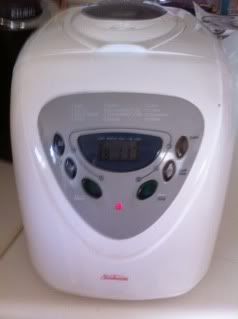 Ingredients:
2 tablespoons vegetable oil, plus more for brushing
1 red onion, thinly sliced
Salt and pepper
One 16-ounce package frozen pizza dough, thawed
1/2 cup barbecue sauce
1/2 cup canned tomato sauce with Italian herbs
8 ounces pepper Jack cheese, shredded (2 cups)
6 to 8 leftover baby back ribs, meat shredded and bones discarded (about 1 cup meat)
2 green bell peppers, seeded and cut into thin rings
Note: I made a homemade dough using
Fleishmann's pizza yeast
.
I took all the ingredients and put it in my bread machine on the dough setting. I also subsituted the pork for shredded chicken.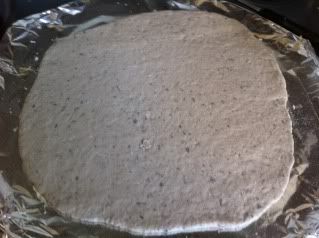 After the dough was done I kneaded it just a bit more and rolled it out. Then for the toppings.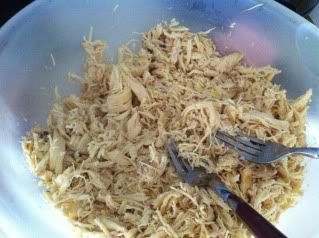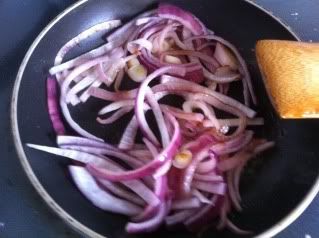 Cook red onions until soft and carmelized.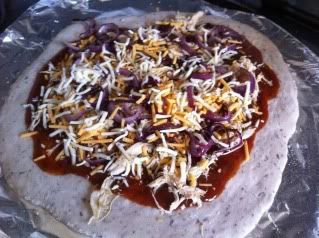 Spread the sauce on the pizza dough and top with chicken, cheese, peppers and onions. Bake in oven 425 for 15 mins. Enjoy.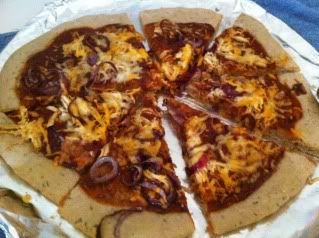 This pizza is a definate try if you are craving something different. I also love the sauce.