We finally went out to eat for the first time since having our baby. Our son has not been the easiest baby. Since about two weeks old it was nonstop crying leaving us trapped in the house. However we had family down and we decided to give it a try, so off to Ruby Tuesday we went.
Since this had been our first time out in a long time I realized I could finally have the steak I had been craving since pregnancy. Petite sirloin here I come, with a side of grilled zucchini and sweet potato fries.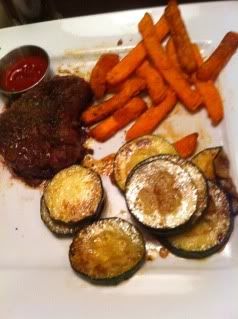 The steak was to die for, it was juicy and flavorful. The grilled zucchini tasted great. The sweet potato fries however lacked seasoning. They would have been great with a little salt and pepper. The only thing left on my plate was the side of ketchup they gave me. Really who eats ketchup on sweet potato fries. Overall it was a good night and a success for baby who was asleep in my arms by the end.