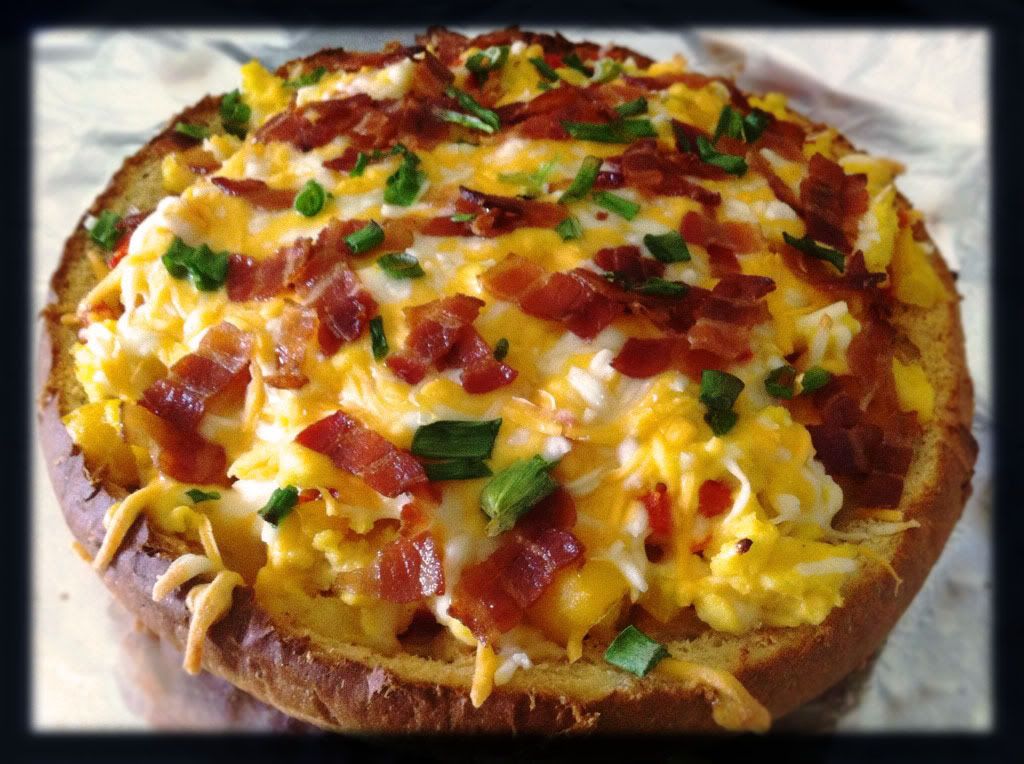 Kings Hawaiian bread has been in my life since I was a kid. I remember going to the store to buy it. When we would get home we would just eat it plain. Nowadays I still eat it plain but also feel it goes really well with eggs. My family's favorite egg recipe is my breakfast pizza. Eggs, bacon and cheese all on a delicious sweet crust. I would make this recipe for my husband at least once a week back in the day. He gives it two thumbs up.
Ingredients

1 Round Kings Hawaiian bread
2 Tbs olive oil
2 Cups chopped bell pepper (I used a mixture of red, yellow, and orange.)
1/2 Cup chopped onion
10 eggs
1 Tbs of milk
1/4 Cup chopped green onion
5 Strips of ready cook bacon chopped
1 Cup of your favorite shredded cheese
Salt and Pepper to taste

Preheat the oven to 375 degrees. Cut the Kings Hawaiian bread in half. Place the bottom half on a baking sheet. Scoop out some of the bread in the middle to make a well, don't go too deep. Place the bread in the oven for 8 minutes. Pull it out and set aside.

Crack the eggs into a separate bowl and add 1 Tbs of milk. Whisk the eggs together, set aside. Meanwhile, in a skillet heat the oil. Add the peppers then onions. Add some salt and pepper to taste. Cook the peppers and onions until the onions are translucent, stirring often. Add the eggs and green onion and scramble. Scramble the eggs until they are mostly cooked.

Sprinkle half of the shredded cheese on the crust. Pour the eggs into the crust. Top with remaining cheese and bacon. Bake for 10 minutes or until eggs are fully cooked. Slice and enjoy.
This is one of my favorite recipes to share with friends and family. What is your favorite dish to share with the family? Comment below and you'll be entered to win a $200 Grocery gift card King's Hawaiian.
This is a sponsored conversation written by me on behalf of
Kings Hawaiian
. The opinions and text are all mine.
Official Sweepstakes Rules
.