I was looking for something else to do with pork chops other than seasoning salt and the grill. So on my hunt for a marinade recipe, I came across
Apple and Honey Marinated Pork Chops
, a recipe by
Susan M. Selasky
, and thought it sounded interesting. It uses apple juice and honey which I thought would be interesting on pork chops.
Ingredients
1 cup apple juice or cider
1/4 cup
honey
1/4 cup canola oil
2 tablespoons
cider vinegar
1/2 teaspoon
kosher salt
1/2 teaspoon freshly ground black pepper
1 teaspoon oregano leaves
2 thick (about 1 ¼ inches) pork chops with bone, trimmed of visible fat
Mix apple juice, honey, oil, vinegar, salt, pepper, and oregano. Put pork chops in a
ziplock
bag and pour half the marinade on top.
Marinate a couple of hours. Next have the husband throw them on the grill.
Cook until done.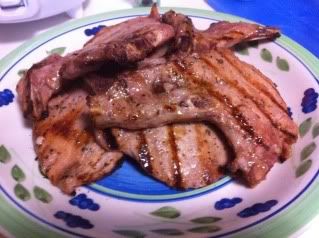 Serve along some grilled sweet potatoes.
These tasted really good when they were done. They were a little bit sweet which was great. About halfway thru eating dinner I realized I forgot about the basting sauce. The recipe said to save half the mix for basting and I completely forgot about it. I guess this is technically an unfinished review since I missed half the recipe. I'm sure that extra sauce would have made the pork chops taste even better. If any of you decide to try this recipe and dont forget about the sauce then please tell me how they came out. I would love to hear your opinion.