Did she just say
Coca Cola
and pot roast in the same sentence? Yes I did. I know what your thinking, I must be crazy. Of course this is what I first thought when I came across this recipe, but let me tell you it is good. I have an obsession with pot roasts anyway and I try to find different ways of making them. This recipe is one of my favorites, however I do change it up a bit. First I used diced tomatoes. I don't want to go through the hassle of chopping them up. I also don't use the dry spaghetti mix, I never have any on hand. I did use an 8oz can of tomato sauce this time. I also use a 32oz container of beef broth. The original recipe can be found on
Allrecipes.com.
Coca Cola Pot Roast
Ingredients
1 (14.5 ounce) can stewed tomatoes
1 cup cola-flavored carbonated beverage
1 packet dry spaghetti sauce mix
1 cup chopped onion
3/4 cup chopped celery
1 1/2 teaspoons salt
1/2 teaspoon garlic salt
3 pounds beef chuck roast
2 tablespoons vegetable oil
The first thing you do is chop all the vegetables and layer them in the bottom of your
slow cooker
.
Then you take your beef and season with salt and pepper on all sides. Heat a skillet on med heat and brown the meat on all sides. This seals in the juices and keeps the meat from being dry.
Pour in the beef broth, tomatoes, tomato sauce, and your favorite can of cola (leave 1/4 of the can for all your hard work) . Position meat fat side up in slow cooker on top of the vegetables.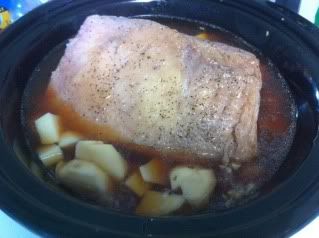 Cook on low for 6-8 hours and enjoy. The vegetables should be nice and tender and the meat should practically fall apart when done.
The pot roast was so good I forgot to take a picture of the finished product. You will just have to trust me on this, it was that tasty. This is not your traditional pot roast, this one has a sweet flavor but not too sweet. Try it yourself and let me know what you think.