I love pierogies. I must admit there was a time when I didn't know what a pierogi was. Then one day I was introduced to pierogies and my world changed.
For those of you who don't know pierogis are a type of dumpling with a potato filling. You can boil them, bake them or even fry them. I usually boil them then add butter and sour cream. Yumm.
Since I love pierogies so much I decided to try a casserole recipe. This is a homemade pierogi casserole, sort of a cheating way because you don't actually use pierogies.
I found this recipe on
Food.com
. Preheat oven to 350 degrees.
Ingredients:
The first step is to boil the lasagna noodles.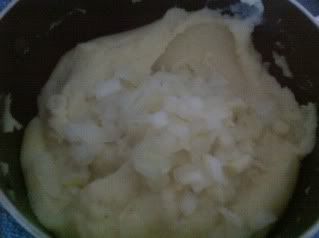 While that is cooking you make the mashed potato filling. I cheated, I really have a hard time making good mashed potatoes so I used the boxed kind. Two packages of mashed potatoes made according to package. Then take the onions and cook until translucent. Add these to the mashed potatoes and stir in.
Take the lasagna noodles and layer them in a
13x9 in dish
. Then spread the potatoes. This part I must admit was tricky. The noodles kept wanting to come up so I used a rubber spatula to spread the potatoes. Then top with some cheddar cheese. I personally like to use a small amount.
Keep making these layers until all the noodles are gone. Sprinkle cheese on top. Cover with aluminum foil and bake 25 minutes.
This tastes just like real pierogies and are lot cheaper than buying the box of them at the store. You can top it with whatever topping you prefer. I had it on the side with some picadillo.