I was going to make a homemade chicken soup until I realized I had the ingredients to make a chicken pot pie with puff pastry topping. I always wanted to make a pot pie with the puff pastry, it just looks so yummy.

I found this recipe from Alton brown
on
food network
. The recipe is easy if you use store bought puff pastry instead of making it yourself.
Ingredients
Filling:
2 tablespoons vegetable oil, divided
1 1/2 pounds chicken thighs and/or breast, skin and bone removed, cut into 1/2-inch cubes
2 1/2 teaspoons kosher salt, divided
1 large yellow onion, chopped
2 medium carrots, peeled and cut into 1/4-inch thick slices
2 medium celery stalks, cut into 1/4-inch thick slices
1/2 teaspoon freshly ground black pepper
1/3 cup all-purpose flour
2 cups low-sodium chicken broth (I used the broth from the crockpot that I cooked the chicken in.)
1 1/2 cups 2 percent milk, room temperature (I used 1% milk and it still came out creamy.)
8 ounces frozen green peas
1 teaspoon freshly chopped thyme

Store bought puff pastry

The first thing I did was put my chicken in the crockpot with water and a chicken bullion cube. I let this cook for six hours on low so I could use shredded chicken.

Next you need to cut the carrots, celery, onion, and garlic. Heat a pot on med high and add a couple Tbs of oil. Add the carrots, celery, onion, garlic, salt, pepper, and thyme. Stir and cook for about 5 mins until the onions are soft.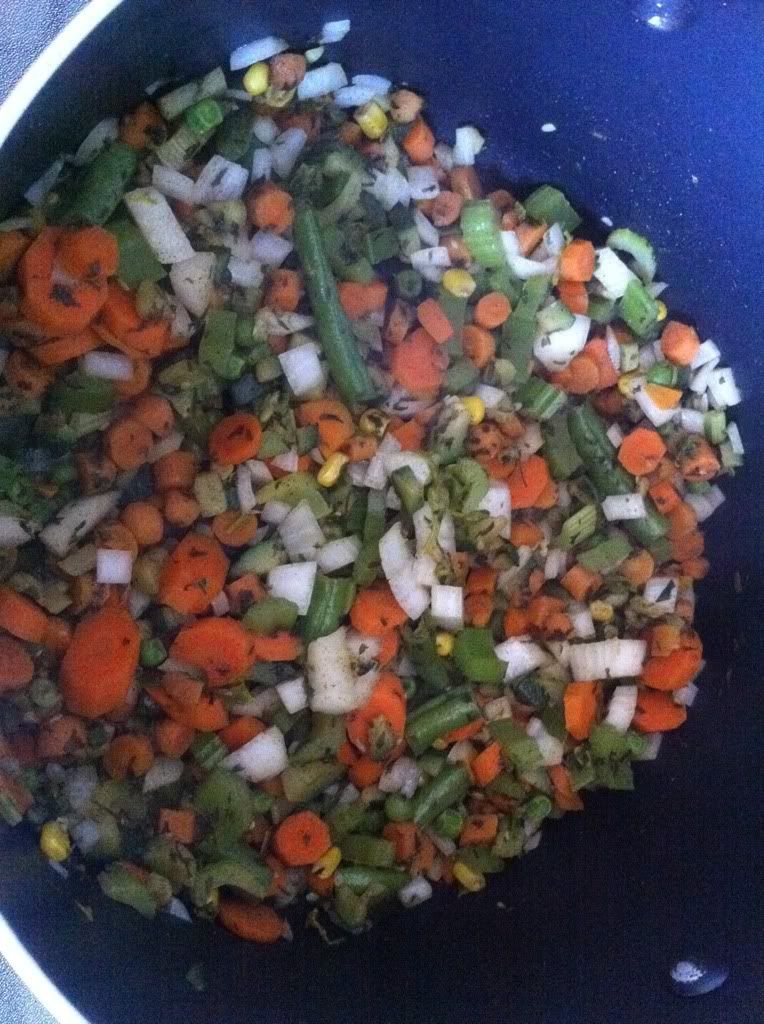 Add the butter and melt. Then stir in the flour and cook for 2 mins.
Gradually stir in chicken broth and milk. Bring to a simmer and keep stirring until the sauce thickens.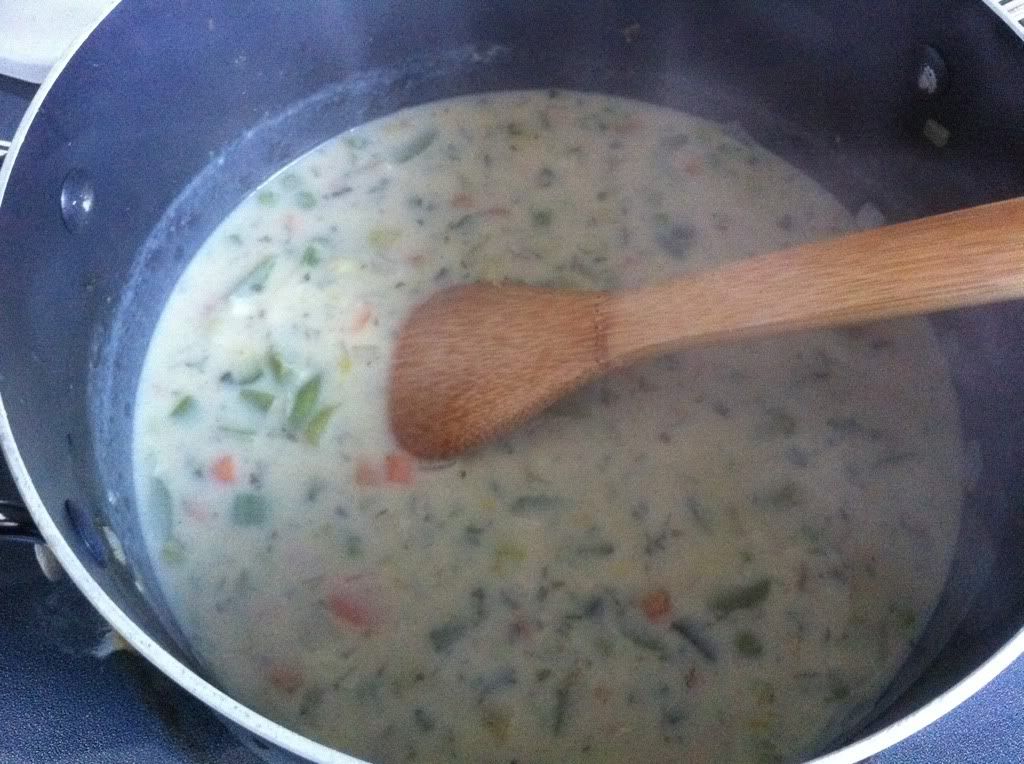 Remove from heat and add the chicken and peas.
Put this filling into 4 individual ramekins.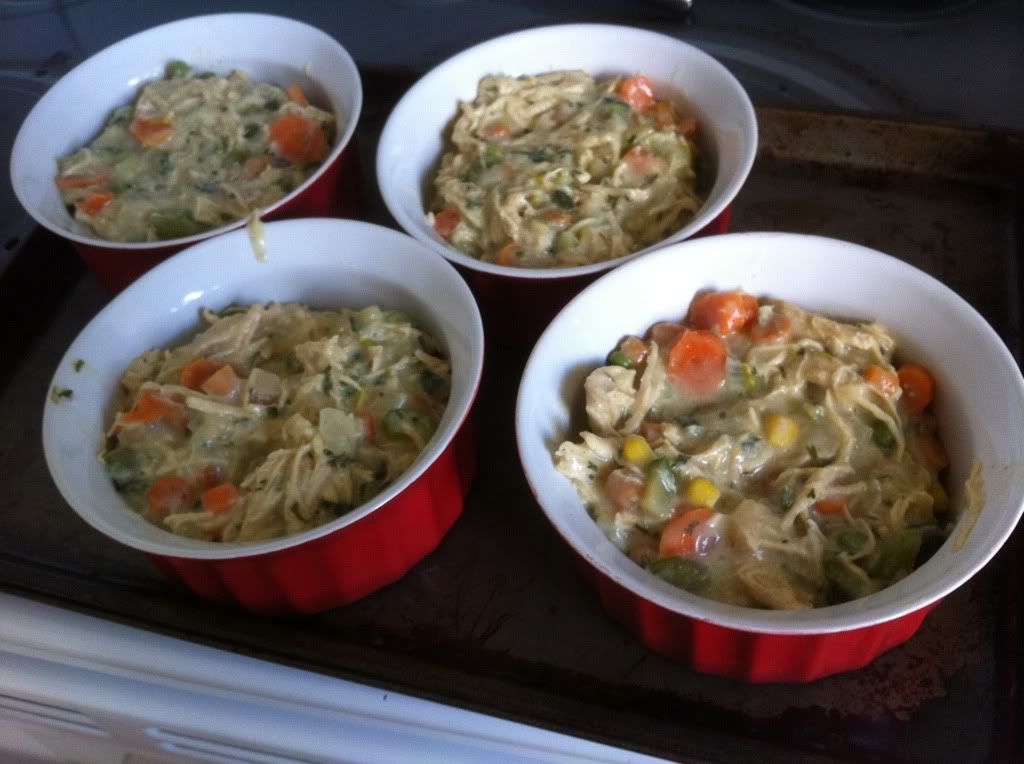 Roll out puff pastry and cut to cover the ramekins. Place on top of chicken mixture and brush with egg wash( that's how it gets nice and brown ).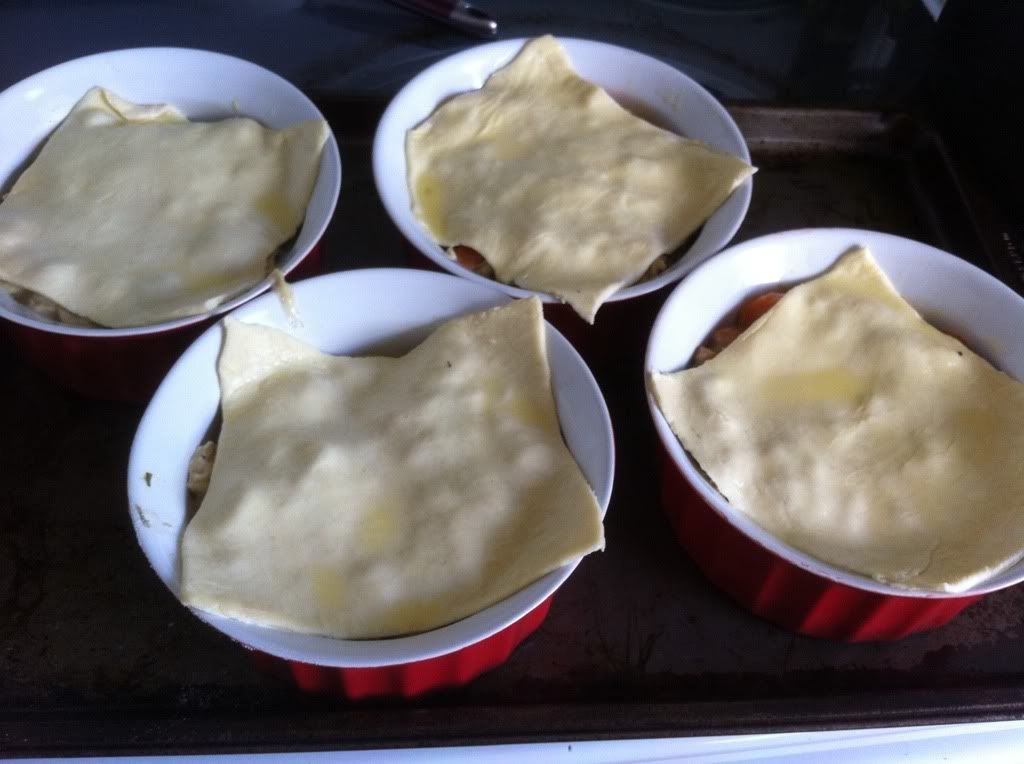 Bake in oven for 15 mins on 425 then reduce heat to 400 and cook an additional 15-20 mins. Cool and serve.