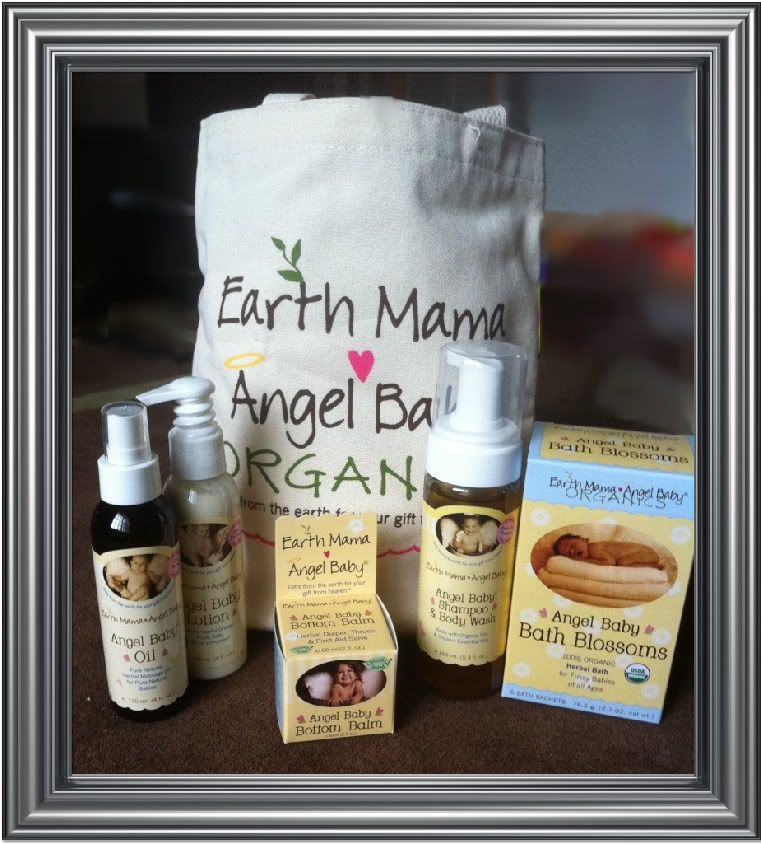 Earth Mama Angel Baby
is a company that is committed to using the highest quality, certified organic or organically grown herbs and oils. They make teas, bath herbs, handmade soaps, salves, lotions and massage oils. They create products that are 100% toxin free, cruelty free, vegan, with no artificial preservatives, fragrances or dyes.
I was recently sent the
Baby Essentials Bundle
to review and am pleased with their product. This bundle includes the following:
All natural Vanilla Orange Angel Baby Lotion 4oz
Angel Baby Shampoo & Body Wash 5.3 oz
Angel Baby Bottom Balm 2 oz
Angel Baby Oil 4 oz
Angel Baby Bath Blossoms
All of these items are made with organic ingredients and come in a 100% certified organic cotton mini logo tote.

Angel Baby Lotion
The Angel Baby Lotion will make you hungry. The smell is sweet and just like the shampoo it makes me think of orange creamsicles. Made with natural Vanilla and Orange this lotion is a must have for your baby.
Angel Baby Shampoo & Body Wash
When you first smell the shampoo & body wash you will get hungry. The scent reminds me of an orange creamsicle. It is made with pure organic Vanilla and organic Sweet orange essential oils. This body wash comes out of the bottle as a foam and makes it really easy to wash baby without a washcloth. After my baby was dried from his bath he was super smooth just like when he had been born. I only used this as a body wash because it is
Not
a no-tear formula and I didn't want to risk that with my baby.
Angel Baby Bottom Balm
This balm has become our favorite Earth Mama Angel Baby product. While I have yet to use this on my baby's bum, I have used it for mosquito bites. It all started one night when my husband got stung by mosquitoes all up and down his arm. I remembered that the bottle said it could be used for boo boos, burns, itchy rashes, and thrush. I figured we should go ahead and try it on the mosquito bites and it worked!! After he applied the balm he felt no more itch. I have to admit I wished I had a bug bite so that I could see how well it worked. Well my wish came true and I have had several bites to apply the balm to. Every time I feel the itch I put the balm on and it goes away for hours. While I can't tell you how it works for your baby's bum I can tell you that it is a true lifesaver when it comes to bug bites.


Angel Baby Oil
Made with grape seed oil blend that has no nut oils and zero toxins. Angel Baby Oil is infused with calming organic Chamomile and moisturizing organic Calendula, and has no scent. A nice massage for baby (or mom) will help relax them. It really does not smell like anything which is great if you want your baby to still smell like a baby.
Angel Baby Bath Blossoms
When I first read the box I had no idea that I would actually be brewing my baby's bath. That's right just like a tea bag you must brew it then add to baby's bath. The Bath Blossoms are filled with pure, organic blossoms of Calendula, Chamomile, Rosebuds and Lavender along with Lemon Balm and moisturizing Oatmeal. They claim to calm the most fussy baby and my baby is one. He was instantly calm the moment I put him in the bath.
I received one or more of the products or services mentioned above for free in the hope that I would mention it on my blog. Regardless, I only recommend products or services I use personally and believe will be good for my readers. I am disclosing this in accordance with the Federal Trade Commission's 16 CFR, Part 255: "Guides Concerning the Use of Endorsements and Testimonials in Advertising."